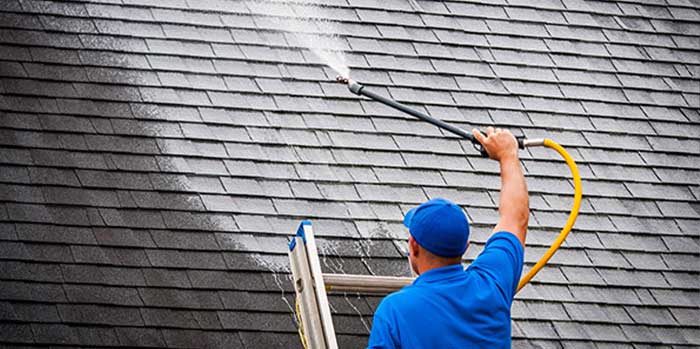 18 Mar

7 Helpful Tips For Safely Cleaning Your Roof

As a homeowner, it's normal to worry about the look of your home. Everyone wants their home to look its best, both for themselves and visitors. One area that is often overlooked, however, is the roof. Your roof is one of the most important parts of your home, and it's important to keep it clean. Keep reading to learn how to clean roof shingles properly.
How to Clean Your Roof the Right Way
Roof shingles require special care when cleaning. You don't want to damage any shingle by using the wrong tools. Here are some tips you should follow for proper roof washing. 
Stay safe:

Safety first. When working on your roof, it's important to be aware of your surroundings. Make sure no one is below you and that you have a solid foothold.

Inspect your roof:

Before starting, look for any debris or moss that may have accumulated. When you finish, check if all the waste was removed and see if there was no damage.

Get the right tools:

A bucket, hose, and soft-bristled brush are all you need to clean your roof properly.

Remove any debris:

This includes leaves, branches, and anything else on the roof. Don't forget the gutters. Clogged gutters can cause roof damage. Use a garden hose and a roof brush to help yourself.

Use cleaner:

This is optional. You can use a roof cleaner to help loosen any dirt or moss.

Start at the top:

 Begin

roof washing

from the top of your roof and work your way down. This will prevent any water or cleaner from dripping down on already-cleaned areas.

Rinse off:

Once you're done, use the hose to rinse off any cleaner or debris. Remember to do a final check to see if anything is in place.
Keeping your roof clean is important for its appearance and its longevity. By following these simple tips, you can clean your roof the right way. If you're not comfortable doing it yourself, ProSeal offers professional washing services to take care of everything for you.
The #1 Roof Washing Option
At ProSeal, we understand that each roof is different, and we take the time to inspect your roof before starting any work. This way, we can tailor our roof professional washing services to your specific needs.
We use a gentle soft wash technique on your roof to effectively remove dirt, moss, and lichen. Our roof washers are experienced and certified, so you can rest assured that your roof is in good hands.
We also offer a 100% Satisfaction Guarantee on our roof washing services. So if you're not happy with the results, we'll work until you are.