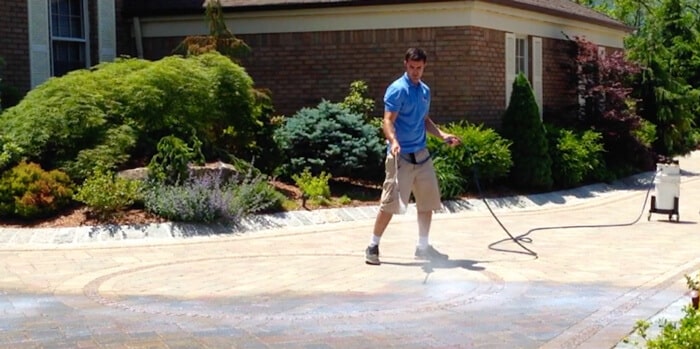 21 Oct

4 Key Benefits Of Power Washing

Your paver, roof, and walls can quickly become covered with thick layers of unsightly dust, fungus, and algae. Not only does this ruin the aesthetic appeal of your property, it can also lead to expensive repairs down the road. 

Have you ever considered giving your property a good power washing to bring back its beauty?
What is

Power Washing

?
Power washing is an effective method to remove dirt and debris from surfaces using high-pressure water, sprayed with a motorized wand. This leaves behind clean walls free of mold, mildew, or moss build-up. It works on driveways, sidewalks, decks, and other concrete structures as well.
Once the dirt has been removed, the surface gets sealed so that no new stains can form. No matter if you want to brighten up your way-too-old, rundown deck or clean mold off the side of your home, power washing is important to both maintaining your property's value.
4 Benefits of Power Washing
Saves Money
We know that neglecting routine maintenance can lead to serious problems down the road. ​​Power washing your home's exterior will help protect your house from mold, dirt, algae, and grime which can cause discoloration, fading, cracks, and mildew. 
Beyond aesthetics, power washing can prevent future problems that may arise if moisture enters through damaged surfaces. The good news is that hiring a professional power washing service will remove dirt and mold before they cause any permanent damage – leaving your home looking its best while protecting it against expensive repairs.
Saves Time
Did you know that a power washer is the most efficient way of getting your home's exterior clean? That means no more scrubbing for hours those stubborn stains and exposing yourself to dangerous chemicals; professionals can remove them all in minutes!
These impurities are responsible for making your house look dull so getting rid of them means bringing back life to your house's exterior! Your house or building will be much easier to maintain. That means less work for you down the road and more time doing things you enjoy.       
Health
House washing can be an important part of keeping up the appearance of your home, but did you know it might also help keep you healthy? Power washing can remove pollen, fungi, and mold spores that collect on the exterior of your house. It's one of the best ways to make sure your home is less inviting to these allergy triggers.
Power washing is superior to traditional household cleaning products when it comes to removing allergens. This minimizes exposure to allergens and can reduce the time you or your family spend sneezing and coughing.  
Increases Property Value and Curb Appeal
Power washing is a great way to increase the curb appeal of your home. Nothing welcomes guests more than a well-maintained home. An exterior power wash can leave your home looking clean and at its best in a matter of hours.
This will give your home an immediate attractiveness boost that could make a difference if you try to rent or sell your property. Do you want to further enhance your home's exterior appeal or property and perhaps even boost its value in an increasingly competitive real estate market?        
Professional Power Washing Services
The exterior of your home or business is the first impression that people will get when they visit. Power washing is an effective way to make a home look brand new. From decks and roofs to garages and sidewalks, we have all of your exterior needs covered. 
Pro Seal LLC helps you with all of your power washing needs in Northern New Jersey so you can focus more time on what matters. Our affordable services will keep your property looking its absolute best year after year, season after season! Contact us today to schedule an appointment.